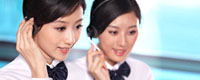 Name: Mrs. Ivy Yu
Tel: +86-13242090939
Mobile: +86-13510779807
E-mail: marketing.creatitech@yahoo.com
Add: 2nd floor, Bldg A2, Donghua 3rd Industrial Zone, Sanwei, Baoan District, Shenzhen,China
Skype: cedric0827
MSN: whatsapp 86-13242090939



Located at Donghua Industrial Zone, Xixiang Town of Baoán District, established in 2007, Creatitech Limited is a high-tech manufacturer specialzing in custom Video Catalog (Video Advertising Booklet, Video Promo Card,) Digital Photo Frame, Custom USB memory, Mouse, Keyboard and Mobile Power.

The corporate icon of Creatitech takes up the Letter C and T to compose a smiling face. It goes along with the philosophy of Creatitech which, as a global enterprise of this global society, transcends the boundaries of countries, regions cultures and customs.
The letter "T" shapes like a balance. It represents that Creatitechers always find a balance point to help clients gain benefit. The letter "C" symbolizes a smile which means creatitechers always aim to meet client's satisfaction and create infinite possibilities.
[
More
]